Valsir's Recycling division produces a range of compounds containing up to 99.5% recycled material, and collaborates with its customers to develop tailor-made polypropylene and polyethylene products that are capable of meeting all their requirements.
Our compounds are produced exclusively using recycled material, most of which comes from our grinding and washing lines.
Thanks to our technologies, we're able to manage the entire production chain for transforming the plastic waste into a new compound.
Our products boast "Remade in Italy®" certification, which quantifies and certifies the amount of recycled material they contain, and ensures complete traceability throughout the entire transformation process.

This certification is also recognised by the GPP criteria, and allows our customers to participate in public tenders thanks to compliance with the CAM requirements.
In order to obtain our finished products, the regrind materials are inserted into our extruders, and are mixed with additives, dyes and mineral fillers to improve their mechanical and aesthetic properties.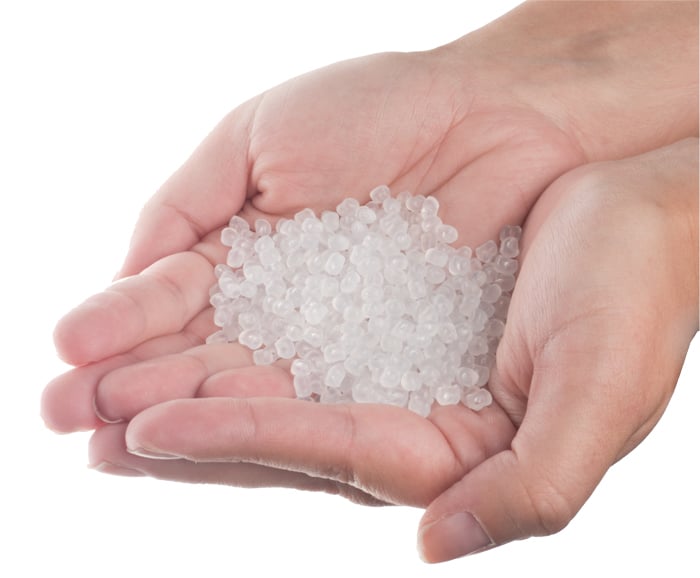 During the melting of the material, the mixture undergoes several degassing phases, and the various ingredients in the recipe are perfectly blended together.
The molten material undergoes a double filtration process to eliminate any contaminants that could cause aesthetic defects to arise in our customers' products, after which it is sent to the granulation section. The resulting granules are then inserted into mixers for further homogenisation, in order to guarantee maximum homogeneity and consistency for our customers' processing needs.
Our compounds are meticulously analysed in our laboratories, and are accompanied by material safety and technical data sheets, in compliance with the Uniplast 10667 standards.
Our materials can be either PIR (Post Industrial Recycled) or PCR (Post Consumer Recycled), based on the customers' needs.
Our RPP (Recycled Polypropylene) and RPE (Recycled Polyethylene) materials are:
• 100% recycled
• 100% recyclable
• 100% made in Italy
• 100% made by Valsir Recycling
• 100% Remade in Italy
• 100% eco-sustainable
We produce new raw material
---
Through the selection, recovery and recycling of plastic waste, Valsir produces high-quality natural, black and white polypropylene and polyethylene compounds for moulding, extrusion and blow moulding.
Our technology allows us to obtain SRMs (secondary raw materials) that have the same aesthetic and mechanical properties as virgin polymers. We collaborate with our customers to create environmentally sustainable and eco-friendly solutions for their needs.
Applications for our RPP and RPE granules include automotive parts, home appliances, household goods, furniture, wheels, packaging for cosmetics, packaging for detergents, bottles, caps, dispensers, toys, packing materials, construction, pipes, fittings, textiles, gardening materials, and pet industry products.